About Us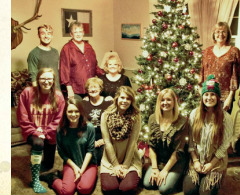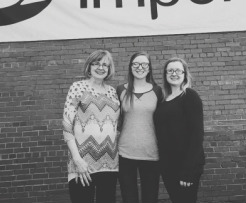 Who We Are
Lori Fleming- Owner and Mother of the Misfits
Lori has owned the Clay Café since 2007. She has a Degree in Art and has a passion for serving people. She loves producing custom art pieces and is Clay Café's leading artist! She is the soul breath of the Clay Cafe!!
Sharon Wood- Aunt to the misfits
Sharon is Lori's sister-in-crime. Sharon comes to Clay Cafe after teaching for 30 years. She has a heart for children and loves her grandbabies! You can see Sharon's art come to life with her whimsical hens she paints on her pottery. She is also affectionately known as Gigi Poppins.
Allie Houck- Ms. Go to Girl (Manager)
Allie has worked at Clay Cafe since 2010. She enjoys caligraphy, canvas painting & organizing. She married the love of her life in the fall of 2015. Allie loves her boston terrier, Crossfit and horse back riding.
Kelsey Ried- Ms. Artsy (Manager)
Kelsey joined our team in January 2015. She graduated from LCU with a degree in art education. She worked in an art gallery in North Texas before getting engaged to her now hubby. Kelsey is known for her cactus and woodland art.
Kendra Stukey- Ms. Bombshell
Kendra joined our team in May 2015. She is at Tech with a major in Interior Design. In her free time Kendra loves to paint and go to the movies with her boyfriend, Will. She has a passion for helping others create their own masterpeices.
Madison Sanders- Ms. Disney
Madison has worked for Clay Cafe since Christmas 2014. When she is not off traveling the world she is a student at LCU. Her love for Disney pours from herself and her artwork. Madison aspires to be a Disney Illustrationist (or princess) one day.
Shayla Ross- Ms. Giggles
Shayla joined our team in fall of 2016. Shayla is a student at LCU. She has a fun and positive personality, she always comes to work with a smile and knows how to make you laugh. In her spare time she enjoys hanging out with friends!
Cindy Stanukinos- Ms. Outgoing
Cindy joined us summer 2016, she will be graduating in August 2017 from Texas Tech. Cindy has never met a stranger, and can start a conversation with anyone! We love Cindy for her personality and attention to customers. Basically, anything Lumberjack is her thing.
Sarah Belt- Ms. Positive
Sarah joined our team in Fall of 2016, she is studying Early Childhood Education at LCU. Sarah brings a positive and sweet attitude to our team. Her passion is working with children! Sarah enjoys sonic drinks, Netflix and her loveable dog!