Parties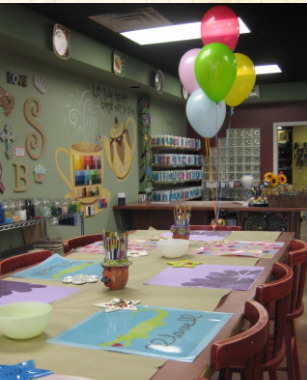 Birthday Parties
Want your child to have a memorable party that all of your guests will never forget? Then leave the mess to us and come to Clay Café! We offer Birthday parties 7 days a week for children 4 years and up!
There is a $50 required deposit with a party of 6 or more (less than 6 will result in only a table reservation). $25 is nonrefundable to hold your reservation. On the day of your birthday party we will credit you $25 back toward your total. You will pay for the price of the pieces that the children paint. You set your own price range by setting your own price limit for the children to choose from.
Your deposit includes:
•A reserved party table set up for you and your guests
•Balloons
•A customized birthday plate
•An attendant to assist your birthday party
Parties last an hour and a half. And you're welcome to come 15 minutes before your scheduled party time to bring in anything extra. You are more than welcome to bring in drinks, cake, ice cream, pizza, etc. We do not provide any party goods. Please call and make reservations!